Blogs originally were created as a way for people to start online diaries. But, eventually businesses' thought these online diaries would be a great way for them to inform and interact with their customers quickly and efficiently. So today, many companies have blogs and almost all should.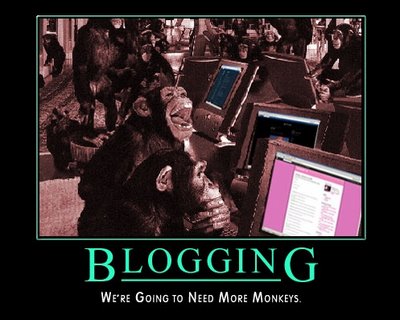 Many people believe a business blog should be very dry and boring like a technical manual, where the text is all informative or somewhat egotistical. Business blogging however, should be like this picture. I believe that if a monkey was writing a blog, it would have a little bit of spunk and personality to it and this is how your companies blog should be like. I mean look; the monkey is even laughing.
So, when creating a blog for your business you should consider talking about more than just your company; you should stay focused on your niche/industry, GIVE IT PERSONALITY, and include valuable and new content. All these are good for both for your ranking in the Search Engines and also for getting more people to actually want to read and visit your blog. Share information about your industry and not ONLY about what your company is doing. Customers want to be helped/served/informed; they do not want to be sold something on your blog…well at least not directly.
Getting started on your company blog, I recommend getting a WordPress blog over Blogspot. WordPress offers a lot more SEO friendly templates and optimizing tools for your blog.
Personally I recommend choosing a niche for your blog. This will help you to obtain higher quality visitors even if the quantity is smaller. However, this leads to a more loyal following, which is the kind or traffic almost every business desires.
When posting content to your blog, consider your keywords that you want to rank for. Utilize at least one keyword per blog post and try to include it in your post at last 3-5 times. Also, consider your blog's keywords on every page and in every post so that your blog can increase in Google's ranking.
Timing is another really important factor to remember. If you were a sports company with a soccer blog, you wouldn't want to announce the World Cup opener date a few days before it starts. You would want to announce it on your blog as soon as the date is released to the public, even if that means blogging at say 10pm at night. If possible, you always want to be one of the first 5-10 people to announce something online.
On a last minute note, but just as important, remember to include media and other sources that can add SEO value as well as attract your audience.
Get started on your business blog today!